Last month I saw this gorgeous corner cabinet on Craigslist, and while it wasn't a total giveaway, it was about half the price of one night in our Grand Floridian room (puts things in perspective)! Now that I don't have a van anymore, I have to tell my husband so he can help me transport my 'finds'.
It was a wee little thing. Tall and slim, with sexy sexy legs, just like me (hahahaha!).
The only corner (no joke) we had was on the upstairs landing.
As it was so petite, but tall, it needed to be screwed into the wall to be secure. My hubs did it today (YIPPEE - SNOOPY DANCE)so I was finally able to fill it.
Five years ago, the first time we went to Ireland as a family, I bought a souvenir from the Belleek factory shop. I wasn't able to display them anywhere, because no where was appropriate, or WORTHY enough for my Belleek statues. They have been 'displayed' in their lovely packaging...So I thought this would be the perfect opportunity to display 'all things
Irish!' Wait...backtrack...Now I could display all things Irish that would fit in this petite corner cabinet! I wanted to display my belleek along with some ironstone, but most of my ironstone platters were way to big! This cabinet is really small! While it doesn't look small, its narrow and on an angle, so so many things don't fit.
This is the final product:
The silver coffee service is sterling silver Wedgewood. This has significant sentimental meaning for me. My ex husband had stolen all my jewellery (family gifts...no diamonds and pearls here) during our divorce (29 years ago), and these were his (hee hee!)...revenge is a dish best served cold my friends! My jewellery had far more value to me, but my ex was a greedy SOB and wouldn't give me my grandmothers ring back, so I kept his silver (insert bad bad swear word here).
Look, Connie won the badminton championships at the badminton club in 1935! Way to go Connie!!!
My Belleek statues!!! Aren't they lovely? I bought that claddagh tea cup on the same trip.
This is quite an old tea set, I don't know where its made or its maker, but its so crazed and obviously old that I had to buy it. It was in the Salvation Army auction, but no one bid, and they priced it for $10/set...MINE!
I would like to add a few more platters, but I need to find some little dainty ones!
Anyways, hope you all have a great week!
Sharing with these great Blogs/Hostesses:
Metamorphosis Mondays - Between Naps on the Porch
Home Stories A to Z Link Party #104
Savvy Southern Style - Wow Us Wednesday
Jennifer Rizzo's Fabulously Creative Link Party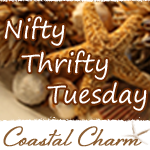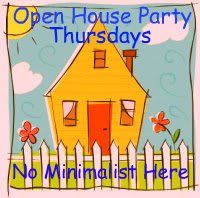 http://www.jenniferrizzo.com/2013/04/fabulously-creative-friday-linky-party_11.html