Here are some 'before' photos of my long, narrow hallway…
I know you are all thinking that surely this is just a transitional photo, but to my horror, this is EXACTLY (minus ladder and propped mirrors on floor) how this hallway has looked for the last 5 years!!!
I know it isn't an excuse, but its just so narrow, that there isn't any room for a bench or even a ledge of some kind. Even sconces would protrude too much.
I'm sure all you stylish ladies and gents would have found some sort of creative way of giving my hall a makeover. After all, it has such good bones! Lots to work with! There is beautiful 18" baseboards, a character filled staircase, and lovely light fixtures, but so blah…
(don't look at the smoke detector wire hanging…just look at the pretty pretty lights)
It was a nice blue coloured hall with a lovely Venetian mirror which was a gift from my late Grand Mother. IT WASNT EVEN CENTRED ON THE WALL!!! I wanted it in a stud, so it was off balance. Who would believe I own at least a HUNDRED HOME DECOR BOOKS!!!!
I'm ashamed of myself, but I've been sooooo busy! I mean I shower regularly, I brush my teeth at least 3 times a day, I even cook on occasion! There is only so many hours in a day!
Anyways (I think I say 'anyways' at least once a post!)I just couldn't take it anymore. My basement had also become the island for misfit mirrors, which I would stumble across at thrift shops or antique shows. So I NAGGED (I'm not ashamed of that!) my husband for about two months, until he relented! Up came the mirrors, up came the power drill (I can't touch it, its made of Kryptonite), up came the raw plugs (do they even use this term in North America?), and Voila!!! One by one, the mirrors were hung! I was on the look out for some smaller mirrors at the recent antique shows, but could only find one decent mirror at the whole show!
This is the original Venetian mirror…
My Concave mirror from Craigslist.
This ISNT one of my favourites, and if it was hung anywhere else, it would have probably been painted, but as was trying to stay with a mainly gold theme, so I left it! The Union Flags were hung to celebrate the Jubilee, but as my husband is Irish, he wasn't thrilled, just tolerant!
This mirror isn't 'old' but was cheap at the Salvation Army (check), and small (check), and gold (check), so up it went!!
This is the mirror I bought at the last antique show. It is quite pretty and the owner was closing her antique business in favour of a wholesale costume jewelry business, so I got it for almost half price.
Big Huge round mirror, but it has some of the plaster missing at the bottom. Chippy, broken, is good isn't it?
Maybe too rustic? It adds to the eclectacism of the wall, and I ran out of mirrors!! In fact, I'm still looking for about 2 or 3 more to really fill in the wall. Its a bit bare it a couple of spots.
See? You can see the big empty spot over the first mirror on the left. BIG GAPING HOLE needs me to go antiquing!!! I'm sorry I don't have a better photo of the 'after', but its so hard to get a good shot without acrobatics! Anyway (see, I did it again!), I love it and in my humble humble opinion, its much better than before! Have a great day!
I'm sharing this post with these great blogs!!!

Savvy Southern Style Wow us Wednesdays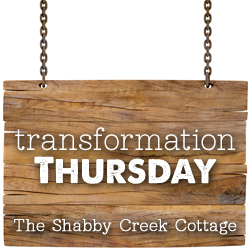 Strut your Stuff Saturdays at Six Sisters
Funky Junk Interiors' Saturday Night Special Party!!!