This jewellry box had good bones, really good bones, and it played the theme from Dr. Zhivago! Unfortunately, it looked like this…
Good bones, but dated finish. Also, it was very clean and in perfect condition. I know I overpaid for it, but I go through junk withdrawal here in the winter! No antique shows in my area all winter long! I end up buying junk in thrift shops which I would never buy in the summer! I may have bought this, but not for the price I paid. BUMMER. So, I had to give it a makeover.
Then, after a second coat of white chalk paint, I added some grey detail and some sanding back to reveal the gold paint underneath…
Then I waxed with clear, then some clear and dark wax combined. Here is the finished product:
I'm a bit light handed with the dark wax, I don't like dark streaks. I just want it too have some depth.
Excuse the crooked angle of my shot!
What a transformation, from dated yucky '60s box to nice shabby white box. I think I'll gift it to my teenage niece, she loves this kind of stuff!
I have a great china cabinet and sideboard I made over a month ago, but I haven't waxed it yet. I painted it white chalk paint, but it looked so simple. I just ordered some beautiful appliqués from California. When they arrive, I will finish it up and do a nice before/after post on those.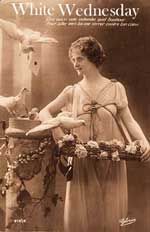 My Romantic Home - Show and Tell Friday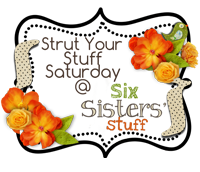 Have a great day!