Last week while I was blog hopping (my favourite pastime!) I came across a lovely blog with a checkerboard floor tutorial! This was really close to my heart, as five years ago I would have loved to find a tutorial like that! Unfortunately, I thought I had saved the blog post but couldn't find it! If anyone knows what blog it was from, please let me know.
Anyways, this lovely post gave a pretty awesome tutorial on painting checker board floors. As I said, I did it five years ago and it was totally worth it. We live in a 155 year old house with original wide heart of pine floors. Not such a good photo and colour off, but use your lively imagination...
We had just built an addition and couldn't afford to put in reclaimed pine. My contractor didn't recommend new wide pine, because he said when it finally dried, the wider planks tend to warp more (a new floor today was a tree last week - sad). Anyway we had to use 3 1/2 " width. I wasn't thrilled because we worked so hard to have the kitchen addition look like it was an original part of the house, to then have these skimpy wood floors bugged me! Also the pine is so white when its new and it has lots of knots. The contractor guaranteed me that within 3 years the colour would match my existing floor. He was right!
New floor after 5 years
The old floor runs straight into the new floor, so I was on a mission to do something to distract the eye from the change in flooring. Whenever I perused a book or magazine and saw checkered wood floors I always loved it, and I thought 'Hey, I can do that!'. I also thought 'Hey, I can afford that!' It would only cost the paint, tape, and mineral spirits. The contractor was going to varnish it anyway, so that wasn't an extra cost. Although when I told him I was going to paint my newly laid pine floors, he and my husband started plotting to have me institutionalized! I was nervous about touching the floors, but it was so worth it and they were SOOOOOO WRONG!!!!!
In total, it took 3 days of scratching my big head while plotting out my pattern on graph paper (use pencil, have a BIG eraser with you…unless you are a math whiz). It also took about 3 days of plotting my pattern on my new, unvarnished, unsealed pine floors with my big T square tool, chalk, and masking tape, then applying the paint. It is TOUGH ON YOUR BACK! Hint, wine helps with this. I did use MASKING tape not PAINTERS tape. I had started painting my checkerboard pattern with painters tape, but it was mildly bleeding in some spots. Although I had taped it nice and tight and pressed firmly and used a very dry rag dipped in minimal paint mix near the tape, it still bled in spots! Yuck!!!! My wall painter suggested the masking tape. As he pointed out, my floors had no existing finish or paint on it to damage. Why not! BRILLIANT!!!! It was magical! Clean crisp lines!
Also, I wanted my floors to look like a stained checkerboard floor, not a painted checkerboard. When I researched the stained option, any book, website, etc… I found said I had to score my floor with an exact knife in the checkerboard pattern after taping, but before staining. This is to stop the stain from seeping under the paint (through the wood) and causing a bleeding disaster. Stain is absorbed into the wood, unlike paint which just sits on the surface. The cut is to separate the wood to give the stain a boundary. Does that make sense? WAY TO MUCH WORK! Plus, I don't trust myself with an exacto knife! Sometimes, if I don't keep my exacto knife pressed firmly only ruler, with wavers, and I get a wavy cut not a straight one! I just didn't want to risk ruining my newly laid floors being totally cut up! I know my limitations, and straight lines is one of them!
I read that you could get a mock stained look by mixing oil paint (durability) with mineral spirits! This will make the paint mixture translucent. You decide how much mineral spirit to use, by the colour you hope to achieve. I think I used 1 part paint to 1/4 part mineral spirits. Remember, try it and ad more, but remember to remember how much you added! If you need to mix up more paint, you want the same colour density. Use a relatively dry rag for the painting/staining. If you want more colour intensity, go over it again, but this way you can control bleeding and colour.
Once it was done, my contractor asked me if I would do it for his other customers…Ahhhh….NO! I have a bad back to begin with, and while I would sacrifice it for MY floors, I couldn't do it more often.
Whenever anyone comes in to our kitchen, especially the men, they LOVE it! My husband brags about it! So MR CONTRACTOR AND MR HUSBAND had to EAT CROW!!!!
After I had painted the checkerboard, I painted the border around it, and it contained the room, like a nice carpet.
Have a great day!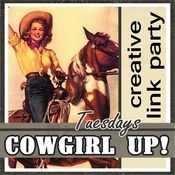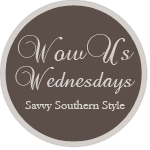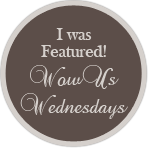 Also Linking up to one of my favourite blogs…My Romantic Home. Link up Here:
Show and Tell Friday at My Romantic Home