Ok, so now I've completed my second table from my pile of junk, furniture in my garage!! Yippee! Horray for me!!! My husband, says 'only two done?'. Yeah, well they (the family) still want to eat (daily!) and want laundry too! I am also President and CEO of M.O.M.s Taxi Company inc., and since its a small business, I'm its sole taxi driver! We go all over Toronto and suburbs for auditions, Irish dancing lessons, piano lessons, no job too small or big for M.O.M.s!! Thats what my kids say! I'm sure many of you run such a taxi service, and you know that the tips are hit and miss! The things we do for love.
Here is a before photo of this little table.
Not a bad little table. Rather delicate, and nice legs, very sturdy, but dated and worn. It also had an unnaturally shiny finish.
I started with two coats of paint(it kept repelling the paint of provence ASCP). The last table I painted was this colour,so I just wanted to use it for the undertone. But it still required two coats, just to cover bare spots!
You can just see it peeking out there in the back ground. I'm not crazy about this colour prior to waxing...but loved it waxed.
On came two coats of Old White, some light distressing, wax, and Voilá!
You might be thinking...'um, something doesnt look right here...'. Well my wonky photograph doesn't look right, but yes, the top didn't get painted, because I was saving it for this:
My favourite Cath Kidston wallpaper! I only use her on special projects! Isn't she just lovely? It took all the strength I had not to bring wallpaper back from the Cath K store in Ireland! Strength and the fact that our luggage was already costing us crazy prices because we were overloaded! Next trip I'm bring home the mother load!
She really makes my heart sing! And look at what she did for that table!
Perfectly girly, huh? Even my 28 year old daughter who claims to hate all things floral loved it! High praise from my child!
The glass topper is on it to protect the paper.
The very light distressing lets the Provence and original dark wood peek out in little doses. I really like light distressing, or that really flakey peely milk paint look (love it!), but am not a fan of sanded spots all over the place. It looks nice and I would do it for a client, its just not for my personal taste.
Its Thanksgiving here in lovely Canada, and I do love being Canadian and am truly thankful for many things in my life. Happy Thanksgiving to any Canadians out there! Gobble Gobble!!!
A great scene from a great Thanksgiving movie!!!
Sharing at these great blogs!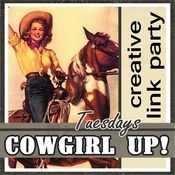 Miss Mustard Seed -Furniture Feature Friday