I have to get myself in the halloween mood! Its now October 4th! I love to decorate early, because why go through all that work only to pull it down three days later??? But, I just can't get into the fall/Halloween spirit yet! I don't want to let summer go! In Canada, Halloween means snowfall the following week! NOOOOOOOOOOOOOO!!!!!
So, I'm going to pull it out today and start decorating tomorrow. I thought I'd share some photos of my favourite Halloween transformation/project from last year: I did a great doll pram transformation last year. It was the coolest, creepiest candy bowl evah!
This was a dirty, rusty, banged up doll pram I paid $10 for (too expensive for the condition it was in!)at a junk shop last year. I knew what I would do with it the second I saw it! Two cans of matte black spray paint later, and voilá!
Add some spooky black lace and a couple of crows and fill with candy! You can keep it on the porch and hand out your candies dressed as the black widow! Creepy!!!! I originally had a small skeleton in it, but the kids just thought it was way too sick! I think I scared them!
Happy Halloween!!!
Sharing at the following great blogs: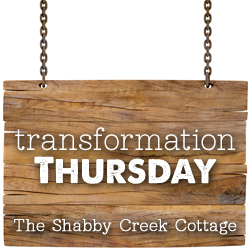 No Minimalist Here - Open House Party
Jennifer Rizzo's Fabulously Creative Linky Party