Well, I broke the ice! I painted the first piece of furniture from my stack in the garage (see this post)! Yippee!!
Here's the before:
Nice and dusty, huh? It was quite pretty but pretty beat up. Some of the veneer was lifting from the skirting, but just barely. As I wasn't going to sell it, I just left it as is.
Then I painted it in Provence (ASCP), very very lightly distressed it, added gold paint accents, and dark waxed it. Voila:
You can see the lifting veneer here
Here is while half had the dark wax, and half was unwaxed. What a huge difference! The wax just adds so much depth to the colour! I really didn't love the colour prior to waxing (it was nice, but not 'me'), but after the waxing, it became quite dramatic! The photos aren't great, I dont know why, just couldn't get the lighting right, or the angle...
Anyway, so thats one down, six to go! Actually, I still have seven pieces to paint before snow fall, because last weekend, while at the Gadsens antique show in Heritage Park, I picked up this lovely desk for my daughters room! Although my husband declared a moratorium on furniture, she NEEEEEEEDS it!!!
Its really quite lovely, but a little shaky, finish a bit mottled, and cobwebby! Big deal! It has oodles of potential, right?
It was such a bargain too! Look at those legs, and all the cubbies! She's 9 years old and she loved it!
So...1 down, still 7 to go...plus the door I mentioned, and a few chairs which I didn't mention...better go pick up my paint brush! Ciao for now! Have a great day!
Sharing at the following great blogs: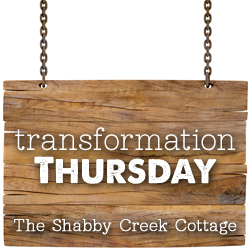 No Minimalist Here-Open House Party
Miss Mustard Seeds' Furniture Feature Friday