Well another Halloween is approaching, and I hate to think that Christmas is right around the corner! I love Christmas, but that means cold, snow, blizzards, coats, boots, more blizzards, shovels, etc...but this post is about Halloween not blizzards and more blizzards!
Yesterday was my birthday, and on Saturday night (the eve of my birthday)I sat around and crafted! It really is one of my favourite things to do and lately with life getting busier and busier, its becoming a real luxury. Anyway, Saturday night, wine glass next to me, I gathered my supplies (including my Hubs)...
Styrofoam head (I drew in bloodshot eyes), foam brushes, watered down white glue, coffee stained paper towels and gauze. I cropped the wine glass out of the photo...
Pulled out the crafting bible.
Martha said to wait TWO DAYS for the coffee soaked paper and gauze to dry, but I threw it in the dryer for ten minutes.

Also Martha said to make glue with flour and corn syrup...not for me. I don't like using sugary things in glues. I don't want any ants, bugs, other critters smelling sugar! Also, don't like sticky surfaces. I used watered down white glue.
Layer the paper towels with glue all over the head in as many layers as it takes to make it look good. I had 2-3 layers, and then added a few layers of gauze. Martha only uses gauze to lay around the head. I found the glued on gauze really helped the 'mummy' look realistic (well, as realistic as a mummy head on your kitchen table can look).
All right, Mr. DeMille,I'm ready for my close up...
This is my good side...
No, I think this side may be better...
I'm so 'damned' good looking! If looks could kill!
She reminds me of myself after I had surgery on my nose! Really quite loverly! Now she is ready to join the rest of the gang at the 'Loretta' households Halloween party...
We play all kinds of fun games here...
We shop for only the freshest of ingredients...
While organ meats are yummers, we can't forget our veggies! Black pumpkins are extra nutritious!
To serve a meal thats fit for a Queen...
We spare no expense. We have lovely after dinner mints...sugar free so they won't rot your lovely teeth...
Won't you join us in the festivities? But they haven't begun yet...Still have lots to do before the bewitching begins!
See you soon!
Sharing the fright at these lovely blogs: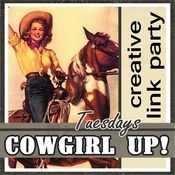 Keeping it Simples' Motivate me Monday Party
Nifty Thrifty Tuesdays at Coastal Charm